Your next move in sustainability
Leverage Your Existing Network

Partner with RainForest Water and tap into a ready-made audience eager for eco-friendly hydration solutions.

Profit with a Purpose

Boost your bottom line while making a tangible impact on sustainability—our artesian water and zero-plastic bottles make it easy.

Long-Term Business Growth

Benefit from RainForest Water's commitment to nurturing B2B relationships, complete with marketing support to elevate your distribution business.
Featured Distributors of RainForest Water
Success Stories
Xcaret partners with RainForest Water to remove millions of plastic bottles from their operations.
Quintana Roo, Mexico
Xcaret is a popular nature park in the Riviera Maya of Mexico, welcoming thousands of visitors annually and offering more than 50 natural and cultural attractions.
Challenge
Sustainability and customer experience is a critical part of Grupo Xcaret. They wanted to switch from single-use plastic water bottles to a reusable and sustainable bottle that would allow them to lower their carbon footprint and improve their visitors experience.
Solution
Xcaret chose RainForest Water for its beauty, sustainability and global reach—which let Xcaret create a smooth and lasting experience for its customers. This partnership has allowed Xcaret to remove almost 2 million plastic bottles from their operations.
Products
Reusable Aluminum Bottle 500ml
Reusable Aluminum Bottle 750mL
Four Seasons Resort partners with RainForest Water to eliminate single use plastics from their guest experience.
Guanacaste, Costa Rica
Four Seasons Resort Costa Rica at Peninsula Papagayo, Central America's exclusive Forbes Five-Star Luxury Resort, is the utmost location for adventure travellers, wellness seekers, culinary explorers, and cultural globetrotters.
Challenge
Single use plastics pose a significant threat to our planet, particularly to the beautiful marine ecosystems that surround the resort. Over the past several years, Four Seasons has been focused on identifying sources of disposable plastic and implementing alternatives that reduce their environmental footprint while delivering an elevated guest experience.
Solution
Four Seasons partnered with RainForest Water as a sustainable alternative to single use plastic bottles offered to their guests, helping them reach their "no-plastic" goal and enhancing the guest experience with a premium and reusable water bottle.
Products
Aluminum BottleCan 16oz
El Corte Inglés joins forces with RainForest Water to promote its plastic footprint reduction plan.
Madrid, España
El Corte Inglés headquartered in Madrid, is the biggest department store group in Europe and ranks third worldwide, with more than 97 stores and 90.000 employees.
Challenge
As part of the implementation of the Sustainability Plan, El Corte Inglés was looking for innovative products that were sustainable and contributed to reducing its carbon footprint. RainForest Water products meet the sustainability standards required by El Corte Inglés and provide added value for its consumers.
Solution
Achieving a more sustainable planet and a better future for all is the maximum commitment of El Corte Inglés, and by forging a partnership with RainForest Water, it improves the offer to the consumer with a premium and reusable bottle of water.
Products
Aluminum BottleCan 16oz
Marriot Hotels Costa Rica allies with RainForest Water to remove single use plastic bottles.
Playa Herradura, Costa Rica
Marriott Los Sueños Resort Costa Rica is a luxury hotel with a golf course and panoramic views of the Pacific Ocean. As part of its commitment to preserving the environment, it obtained the Certification for Tourism Sustainability.
Challenge
Marriott International's global sustainability strategy goes beyond hotel doors to preserve and protect the planet and its resources. The company is focused on reducing its carbon footprint, building more sustainable buildings, making its supply chain more environmentally conscious, supporting innovative conservation efforts, and inspiring our associates and guests to support these efforts.
Solution
At Marriott it was essential to replace plastic bottles with a sustainable alternative that would have a positive impact on the planet. The partnership with RainForest Water allowed Marriot to meet it´s objective and remove thousands of plastic bottles from circulation.
Products
Aluminum BottleCan 16oz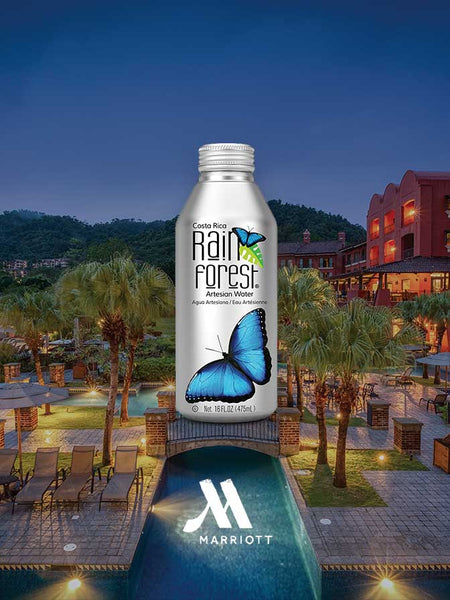 RainForest Water complies with strict standards of international certifications